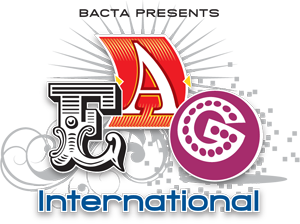 For its third edition, EAG Expo changes its name to EAG International to better reflect the global nature of this amusement trade show. The 2012 edition was held at ExCeL London from January 24 to 26. This year, we'll proceed differently by starting with the presentation of video games. Let's start...
Regarding video games, big attractions Deadstorm Pirates 3D and XD Dark Ride are highly recommended to all amusement parks. For arcades, there are some good new machines: ReRave by Step Evolution, Dirty Drivin' from Raw Thrills and Sega's Virtua Tennis 4. Super deluxe versions of Terminator Salvation and Pac-Man Battle Royale are good choices if you have the required space. At Taito, we apprecdiate the return of Real Puncher while regretting the absence from the show of Darius Burst Another Chronicle which is a masterpiece. Deadstorm Pirates and Let's Go Island are proposed this year in upright versions which are good for location with limited space since these games don't lose their interest in this format. On the other hand, Let's Go Island 3D doesn't add much value to the original while Operation GHOST and Shh...! Welcome to Frightfearland suffer from a poor realization. Despite not being shown at the show, Tekken 6 Bloodline Rebellion fighting game is now available at Namco. Although belated, the initiative is welcome as well as the European release of the Animal Kaiser trading card game for kids.
The trend observed last year continues: more and more video games are offered with an optional ticket dispenser. Among good redemption machines, last year productions Super Monkey Ball Ticket Blitz from Sega and Hopping Road from Taito are still good bets.
EAG International 2013 will be held at the ExCeL from January 22 to 24, 2013. Hopefully, we'll see titles expected by Western players such as Initial D Arcade Stage 6 AA, Wangan Midnight Maximum Tune 4, Hatsune Miku Project DIVA Arcade, Mobile Suit Gundam Extreme VS. Full Boost, Dragon Ball Zenkai Batlle Royale, Taiko no Tatsujin, Tekken Tag Tournament 2, ...
Text / pictures: Sophie & Nomax.
All rights reserved.