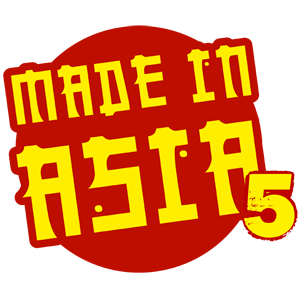 New record for the Made In Asia show: 34 624 visitors across 3 days (Friday 8, Saturday 9 and Sunday 10 of March 2013 at Brussels Expo). This year, there was a hall dedicated to Asian culture and European comics (Hall 5), a concert hall (Patio) and a video game space (Hall 8). Of course, this is where you could find us. Beside Arcade Belgium, this hall offered a big Just Dance 4 stage where people danced on Gangnam Style every 10 minutes, a PlayerOne stand with Xbox 360 and PlayStation 3 home consoles featuring the latest releases, a retro video game shop, a Skylander Giants booth, a large eSports Arena space with a LAN of PCs where League of Legends and Counter Strike Global Offensive tournaments were organized (Counter Strike Global Offensive tourney was won by the Brussels Guardians). There was also a Pix'n Love stand, DDR Belgium booth with a big screen Project Diva custom machine and their famous DanceDanceRevolution Extreme arcade cabinet as well as the big BE-Games stand with many consoles of all eras.

Tatsunoko vs. Capcom: Cross Generation of Heroes tournament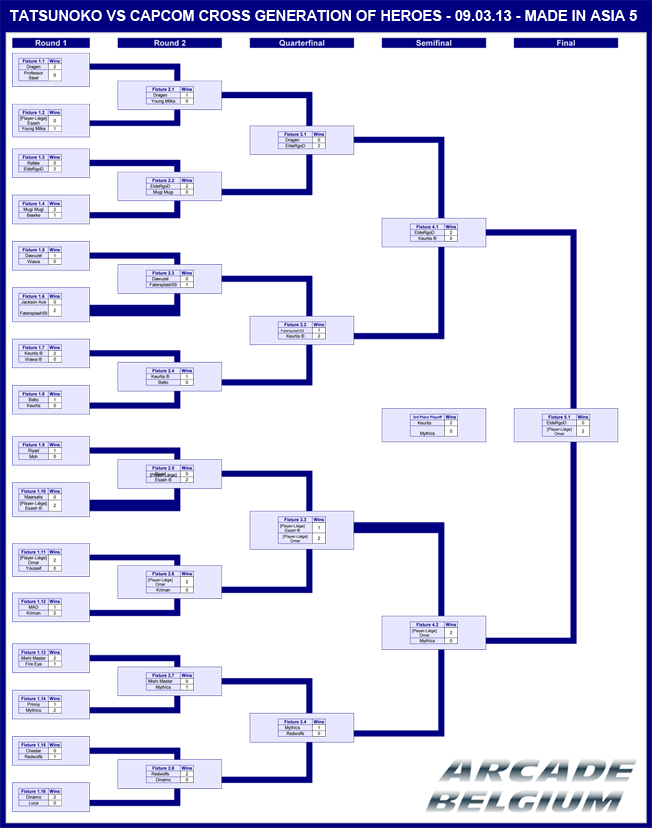 Tekken Tag Tournament 2 Unlimited tournament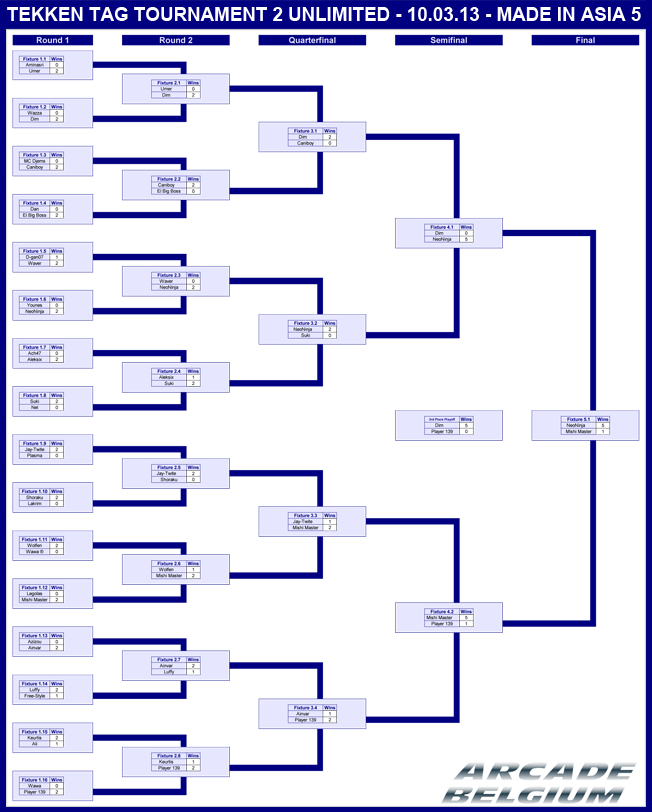 Video

Games
*
= new games since last year.

Media
We would like to take this opportunity to answer some frequently asked questions at the show.

Q: What emulators do you use?
A: None. All our games run on their native original arcade hardware. It consisted this time of Namco's System 246, System 256 and System 369, Sega's Chihiro and NAOMI, Taito's Type X and Type X², Neo Standard and Revolution Arcade.

Q: How much do you sell your arcade cabinets?
A: Our machines are not for sale. If you're looking for an arcade cabinet, we advise you to check our "Arcade Market" forum. You'll probably find what you're looking for.

Q: Players from the Player shop often take part to the tournaments, but they're part of the organising team. Is it not cheating?
A: Of the Player shop team, only Dragen help us to run the stand while Esash occasionally provide some equipment. They're not advantaged in any way for the tournaments.

This Made in Asia 5 was the best edition until now. Very wide aisles, a great atmosphere and a very friendly public! Don't miss the next show that will be held on March 14-16, 2014!
Text / pictures: Sophie & Nomax.
All rights reserved.