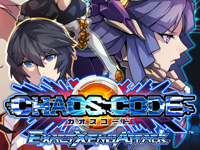 Pre-orders for Chaos Code -Exact Xeno Attack- on exA-Arcadia are open. Chaos Code -Exact Xeno Attack- is the third iteration and the ultimate version of Chaos Code. It's also the first arcade version to be officially released in the West. Created by Mickey and Michael Lin, Chaos Code was released in August 2011 on Sega RingWide after 4 years of development. Some of you may remember Arcade Belgium's Chaos Code tournament held at Made in Asia 6 in Brussels. An updated version called Chaos Code - New Sign of Catastrophe was released in June 2013 on NESiCAxLive (Type X²). This version featured 16:9 support, rebalanced the characters and added one new fighter:  Kudlak Sin. In November 2014, version 2.0 added 2 characters: Ray and Lupinus.
At Toushinsai 2016, F K Digital unveiled a trailer of Chaos Code NEXT, which was to be the complete version of Chaos Code as envisioned by its creators. Unfortunately, Michael, who was the main director and the main force of Chaos Code development team, died of illness on December 25th, 2017. Mickey decided to continue the development of the game in memory of his brother and another trailer was shown at JAEPO 2020. Despite this, Mickey realized that he didn't have enough mental strength to continue the job. So it's with a heavy heart that he announced on February 10th, 2020 that F K Digital would cease the development of all new titles including Chaos Code NEXT after March 31st, 2020.
Fortunately, at that time, the development of Chaos Code -Exact Xeno Attack- was already completed and the game was in testing phase. Chaos Code EXA includes all 16 characters from New Sign of Catastrophe and offers a choice of 16 different costumes for each character. It also has less input lag than the NESiCAxLive version and supports higher resolutions. The game can be set to English, Traditional Chinese and Korean languages. This is the definitive version of the game as you can see in the trailer. Chaos Code -Exact Xeno Attack- is dedicated to the memory of Michael Lin and is scheduled to ship this month.
Pre-order from the exA webshop (shipping from Japan) or from distributors like Red Sun Systems (shipping from Belgium).

Author: Nomax

More info...

Permalink