For those who don't know you, you are senior game designer at Sega. You have led the development of the following games: Rail Chase 2, Gunblade NY, The Lost World: Jurassic Park, Jambo! Safari, Virtua Athlete, Let's Go Jungle, Let's Go Island, Transformers Human Alliance, Daytona Championship USA, Transformers Shadows Rising and the brand new Mission: Impossible Arcade. Are there any others?
Derby Owners Club (iPhone/Android)
The Maze of the Kings (AC)
Sonic Dash Extreme (Video Redemption)
"Plus-e game" contents (for the Japanese restaurant touch panel system. The company has been closed)
"TouchLive" game contents (touch panel game console for darts bars in Japan. Please google it)
Supporting projects (the games that show my name in ending credits):
That's quite a list! Which of these games is your favourite and why?
Let's Go Jungle is my favourite and most successful game for me. It was the first "Romantic comedy-action" in the arcade, and I love all characters. My team staff was all "outrages" from all arcade division, and it was like the "Seven Samurai" or "The Magnificent Seven".

But the game I love the most is Jambo! Safari. The game was not perfect in the market however it was pretty and unique.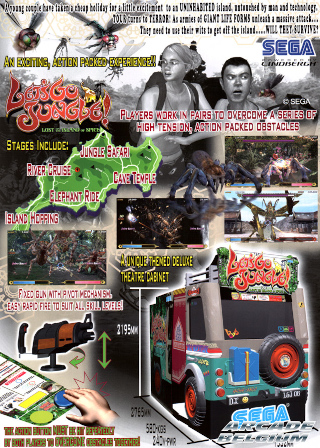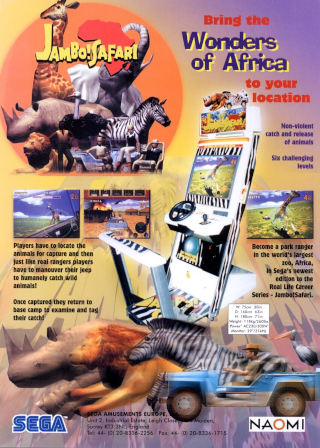 Let's Go Jungle! and Jambo! Safari.
Can you tell us a bit about your background? When and how did you join Sega? What made you decide to join this company?
I joined Sega in 1994 as usual as Japanese university students. The reason I joined was "diversity". Sega has various divisions including toy, arcade, consumer platform and also Karaoke. It was very attractive for me at that time.
What do you like about Sega and what do you think makes this company different from other arcade machine manufacturers?
Too geeky!
What has changed at Sega from the time you joined the company to now?
I feel Sega lost of "rudeness". It is getting smart and good for the company, but I miss the shouting and fighting voices in the office. You may know, Kamata area that Sega used to locate in Tokyo is a typical downtown and labours area like the east of London. I loved the atmosphere of "manufacturing" than "developing".

It has completely gone currently after Sega moved out to Osaki, a bit posh area.
When you are not working, what are your hobbies?
Watching the wild birds in the field and snooker, rugby and football games on TV. Typical Welsh fella!
If you hadn't made this career, what job would you have done?
Probably a plumber or carpenter.
In 2015 you joined Sega Amusements Europe and moved to Cardiff. What was your mission? Was the demand from Japanese or European management?
Developing the arcade game for the western market and learning the cultural gap between Japan and the western market as a game designer. But mainly, I concentrated on developing video games for Sega Amusements.
What elements of everyday life in Wales surprised you compared to life in Japan? Did you find it difficult to adapt?
Oh, I still miss Wales... it is an entirely different country. The biggest issue was always the language barrier. But Wales is the first mother country for me. I only remember good memories besides British food taste is nothing or too much sugar taste.
You have recently returned to live in Japan, what will you miss most about Wales?
Milk (Japanese Milk taste is like water!), Rugby, lamb, blue sky, robins, beautiful British accents (in Japan, almost all English announcements are in an American accent), Costa coffee and the bad taste coffee in Cardiff office.
And conversely, what did you miss about Japan when you lived in Wales?
Mochi, Japanese comics, sweet-bean (Anko), Japanese curry, Xbox one games in Japanese! (some of the games are missing Japanese subtitles due to regional issues).
Recently, the Sega Amusements International division you were attached to became autonomous. Have you joined Kaizen Entertainment or are you still employed by Sega Corporation?
Let me think about it!
ed: Mr Ogasawara joined Sega staff in Tokyo on April 27th.
Let's talk about your games...

What are the differences between game development in Japan and in the West in the way of working?
The priority of the arcade game design in Japan is "what the point is unique and fun?". In the West, it is "can the game catch casual players?". This is the fundamental gap.
What is the difference between arcade players in Japan, Europe and America?
Japanese players' purpose of visiting the location is "to play". Western players are "to enjoy with friends/family". Of course, it is not 100%.
What has changed between the 90's when the same game was suitable for all markets and now when different games are designed for each territory (with some exceptions)?
Derby Owners Club changed the Japanese market. It costs 300-500 yen for a game, but the player could play for over 5-10 minutes. It was a new and fun concept and got good results in the U.S. too. However, the cabinet cost was expensive and didn't have a casual design for the Western market.
Without disclosing your recipe, what do you have to pay attention to when creating a game for the Western market?
It should be "casual", "speedy" and "fun".
With Dinosaur King, all the ingredients were there to make it as successful as Pokémon; a game, trading cards, merchandising, an anime series and on top of that, kids love dinosaurs. What do you think was missing to achieve this success?
Sorry, the Dinosaur King project is not developed by me. I supported it for the DS version.
In 2003 you were working on Project Carbondale, what was it and why did it was never completed?
You remember it! The project leader had changed due to some troubles, so I was in charge at that time. It has just rejected by title project priorities.
As an urban shooter, can Transformers Human Alliance be considered a spiritual successor to Gunblade NY and L.A. Machineguns?
Yes, historically.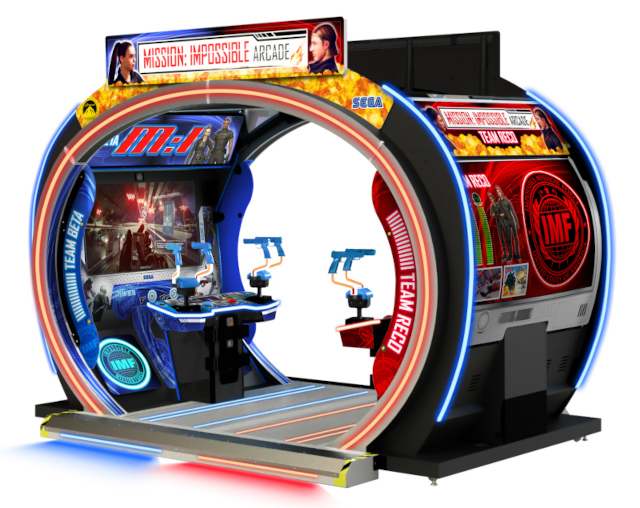 Mission: Impossible Arcade
You recently made Mission: Impossible Arcade which is out now, did you already have the Mission: Impossible license when you started working on the game?
The concept was there before having the license and our team arranged the game design for Mission: Impossible.
Were there any constraints related to the use of this license?
Yes, but it is the standard rule like with other IP holders including Sonic Team, so there are no troubles.
The dual handgun controller is a new feature, what made you decide to use this type of gun?
Mission: Impossible is not a just spy movie but also a military action film, so I thought it should not use a single handgun and rifle style. The dual handgun looks more "action" shooting style than traditional controls so I chose it.
Two players can compete against a team of two other players, what was the inspiration for this process? Was it easy to set up?
The concept was from "Operation Ghost" QA checking. The QA guy and I checked with the score attack and it was fun. So we tried to design the system.

Setting it up was a nightmare!
Did you encounter any difficulties during development?
Cultural and skill gaps between Japan/China/UK/US. It always makes issues.
All recent shooting games use mounted guns, what is the reason for this?
I heard that mounted gun was less likely to be damaged than other types so operators tend to choose it. And the other reason is that a cabled gun controller is a bit difficult to play with for children.
What is your favourite arcade game of all time (from any manufacturer)?
Daytona USA (SEGA).

Daytona USA
What makes an arcade game more attractive than a console game nowadays?
It is a memorable social offline experience. It is not just a game but entertainment!
How do you see the arcade market evolving in the coming years and what styles of games can we expect in the future?
Connection with SNS, PUBG style with home PC/consumer players via online, intense IP games with Netflix or Amazon Prime.
If you had carte blanche and an unlimited budget, what game would you develop?
PUBG + "Bully" in a Japanese school version with Rockstar.
Do you have a message for gamers who frequent arcades?
Save your local arcade and keep pushing the start button. Game over for COVID-19!!

どうもありがとう
Thank you very much for answering our questions.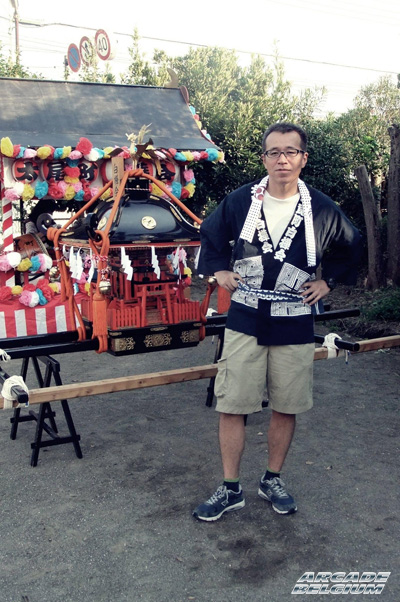 Ogasawara-san at a Summer matsuri.